Our Haverfordwest and Pembrokeshire clients are delighted with the great finish, rapid application, and quick-dry properties of our liquid screed products including Cemfloor. Call now on 01559 370714 / 07786 614562
Liquid Screed Is designed to provide a smooth level surface in both commercial and domestic buildings prior to the application of floor finishes and is particularly suitable to application as a floating screed and for use with underfloor heating systems due to the higher thermal efficiency.
Geoff Farmer of Liquid Screeding Wales is a specialist of preparing underfloor heating for private and commercial Buildings and being based in Carmarthenshire he has many happy customers in Haverfordwest and surrounding areas.
Read more about the amazing Cemfloor liquid screed product we offer across Pembrokeshire and Haverfordwest here

Flowing pumpable liquid screed is gypsum based and is pumped into position.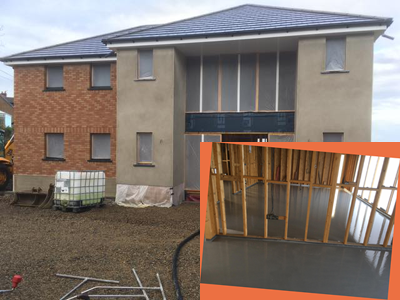 The advantages of liquid screed over a traditional sand/cement screed are:
• Liquid Screed is laid thinner - 40mm of liquid screed is equivalent to 75mm of sand/cement screed.
• Drying time is reduced due to the reduced depth.
• Compaction is fully achieved by the liquid nature of the product.
• Shrinkage, cracking and curling are practically eliminated.
• A gang of 4-5 men can lay 1000m2 of liquid screed per day.
• Liquid screed is especially suitable with underfloor heating as the material flows fully around the pipe to envelope it, and the higher thermal efficiency of the material contributes to the responsiveness and efficiency of the heating system.
We are happy to take on large or small projects in and around Haverfordwest and our friendly, professional liquid screed installers are used to quickly assessing and adapting the application, whatever the environment.
If your property is situated in a hard to reach area then rest easy knowing Geoff Farmer, liquid screening Wales has been in the trade over 30 years and seen and overcome it all.