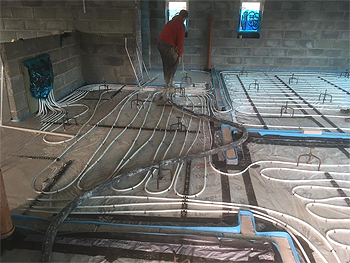 Floor preparation for underfloor heating in Carmarthenshire, Pembrokeshire and Cardiganshire areas of Wales

Geoff Farmer is a specialists in providing a tailored flooring solutions for all types of building work from domestic extensions and refurbishments to large scale industrial and commercial developments acros West Wales.

"Underfloor heating is almost 100% maintenance free, saving you money & time".

Underfloor heating can be installed anywhere in your home; however it is perfectly suited for areas which tend to have a hard floor which gets cold, such as kitchens or conservatories.